Find Ideal Location with Our Data-Informed Site Selection Analysis
Site selection analysis is a critical process that involves a comprehensive assessment of potential locations for a business operation, such as a new store, manufacturing plant, or office. It entails gathering and analyzing various factors, such as market socioeconomics, competition, transportation and infrastructure, labor availability, real estate costs, and regulatory environment. By conducting this analysis, businesses can make informed decisions about where to establish or expand their operations while considering the strengths and weaknesses of each potential area.
The results of a site selection analysis can guide a business in choosing the location that provides the best potential for success and long-term growth.
Commercial property analysis in a broad spectrum of fields
Quick Service Restaurants
Drop-off / Pick-up Points & Lockers
Distribution Centers
Retail stores
EV Charging Points
Shopping Malls & Centers
Apparel & Fashion
Showrooms
Use cases:
Retail site selection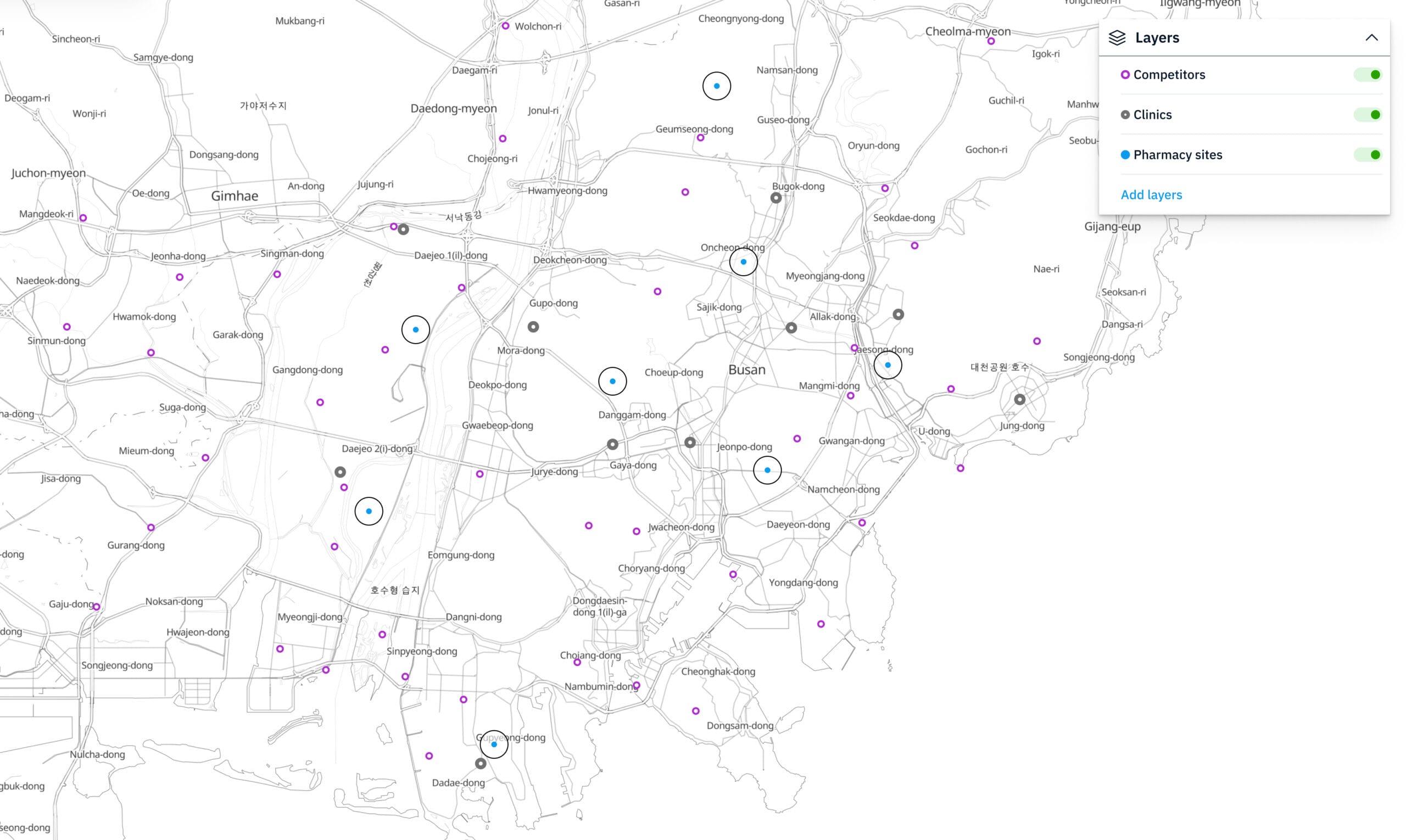 Site selection tools are valuable resources for identifying suitable locations for retail points, including pharmacies. In our pharmacy case study, we analyzed a range of criteria, such as:
Location footfall analysis
Population of the catchment area within a 10-minute radius
Average income per capita
Infrastructure analysis (distance to clinics and labs)
Competitors analysis (distance to competitors)
By considering these factors, we were able to determine the most favorable location for the pharmacy, which would maximize its potential for success.
Solar farms site suitability analysis
Industrial site selection tools are crucial for identifying suitable locations for solar farms. To optimize energy generation and minimize risks, we analyze various criteria, such as:
Solar irradiation
Elevation slope
Proximity to power lines and substations
Air temperature
By considering these factors, site selection tools can identify areas that offer the best potential for energy production, ensuring the development of sustainable energy sources.
What would you get
When performing a site selection analysis with Kontur, you can expect to receive a comprehensive report that provides insights and recommendations on the optimal location for your business operations.
Datasets collection
Includes over 80 ready-to-use worldwide layers and can be supplemented upon request with any sort of input data, such as:
Global Horizontal Irradiance
Frequency of disasters
Air temperature
Nighttime lights intensity
COVID-19 confirmed сases
and more
Competitive analysis
A site selection analysis may also include a competitive investigation that analyzes the strengths and weaknesses of other businesses within the area, as well as any potential threats or opportunities.
Location information
A location selection analysis typically incorporates a detailed investigation of location-based data such as covered population, demographics, competition, labor accessibility, and infrastructure.
Recommendations
After researching, a report will suggest the most suitable places for your company's work, considering your specific requirements and objectives.
Example: A medium-sized chain of fast-food restaurants was looking to optimize and expand their presence in the city. After analyzing a set of their current locations and the ones available for acquisition, Kontur provided a ranked list with what-if analysis that allowed the chain to open a new location in the non-covered part of the city, close one of two nearby locations that were essentially fighting for the same audience, and reject an offer to acquire a restaurant that had looked good in the offer papers but did not really add any customers to the chain.
This allowed the chain to grow their market share 10% and build up their presence on the emerging market of food delivery without growing their operational expenses.
Risk assessment
When conducting site selection analyses, potential threats to business operations, such as environmental risks in a specific location, are also taken into account.
In general, a site selection investigation can provide valuable insights and data-driven recommendations that can assist you in making informed decisions about where to establish or extend your business operations.
Request site selection analysis