Event Feed collects, processes, enriches, and delivers disaster-related information from a variety of reputable sources.
The service operates on a global scale allowing businesses, governments, and humanitarian organizations to quickly access data for more informed decision-making.
You can integrate the disaster feed into your product or analytical service easily using its API. This integration provides real-time updates on events, including geometry and attributes, which gives you reliable data to prevent potentially catastrophic outcomes.
Event Feed visualisation with Natural Disaster list and map
Below is a list of recent natural disasters, accompanied by a map visualization for enhanced understanding and analysis.
The Challenge: Unifying Disaster Data from Diverse Sources
In the realm of disaster management, different data providers have different event data standards. Integrating data from multiple sources into a single internal system becomes complex and cumbersome. While global and local data suppliers offer valuable insights, they often fall short of providing a comprehensive and cohesive picture of disaster-related information.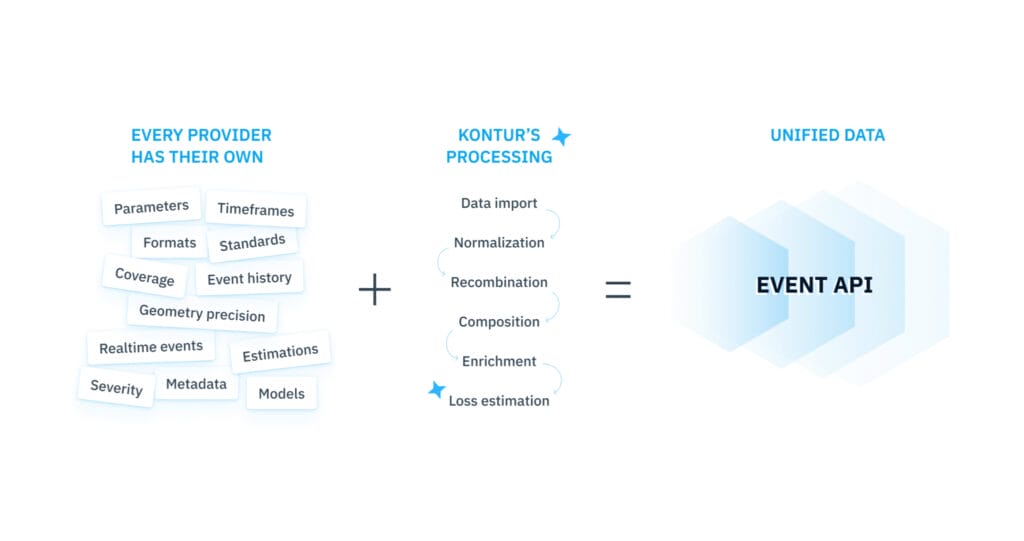 Our Solution: Disaster Tracking System for Informed Decisions
At Kontur, we provide a comprehensive solution to the challenges posed by inconsistent disaster data. We offer two key functionalities to empower our customers:
Data Aggregation and Standardization: Kontur efficiently gathers and harmonizes data from a wide array of providers. By unifying disparate data standards, we simplify the integration process, enabling seamless data compatibility within your internal systems.
Data Enrichment: To further enhance the value of the data, we enrich it using Kontur's analytical information. This augmentation ensures that the disaster-related information you receive is not only comprehensive but also tailored to meet your specific requirements.
What Our Customers Gain:
Easy Data Integration: With Kontur Event Feed, data integration becomes effortless, allowing you to focus on making timely and well-informed decisions without being burdened by technical complexities.
Comprehensive Disaster Data: Tailor the information you receive based on your needs, and gain access to a holistic view of each disaster's impact, both locally and globally.
Enhanced Regional Event Insights: Our platform provides improved event information on a regional level, empowering you to respond effectively to disasters at a local scale.
How it works
Recent and Historical Natural Disaster Database
Kontur Event Feed aggregates data from various reputable organizations, such as GDACS, EM-DAT, FIRMS, CalFire, NIFC, NOAA, and many others. Our platform merges the same events from different sources, ensuring you have access to the most comprehensive and reliable data available for each event.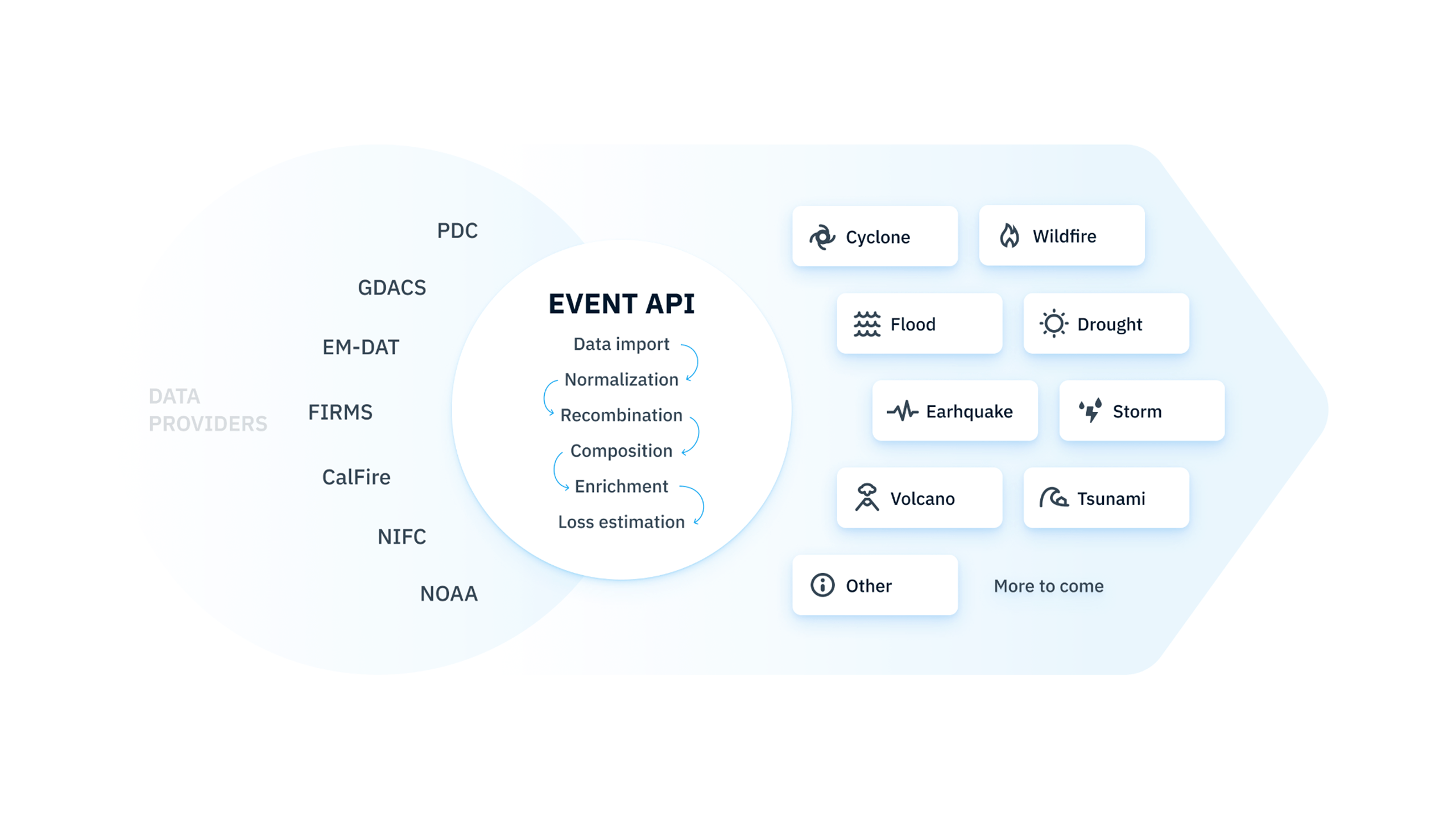 Exploring the Dynamic Nature of Disasters
Understanding the progression of a disaster is crucial for effective disaster management. To facilitate this, we present a comprehensive timeline of how disasters unfold over time, presented in the form of episodes.
Think of episodes as the building blocks of the disaster timeline. Each Episode represents a distinct phase or stage within the disaster's development. From the initial warning signs to the peak of the crisis and through the recovery process, Episodes capture the dynamic nature of disasters. Our platform organizes and categorizes these phases, enabling users to better understand the disaster's evolution.

Additional Disaster Insights with Data Enrichment
Enriching disaster-related information with vital analytics is at the core of Kontur Event Feed's capabilities. Using our dataset collection, we compute a range of crucial analytics for each disaster, providing you with comprehensive insights to enhance your disaster management strategies.
Our platform remains flexible and adaptive to meet your specific needs. We offer the option to include custom analytics based on your request, tailoring the information to suit your organization's unique disaster management requirements.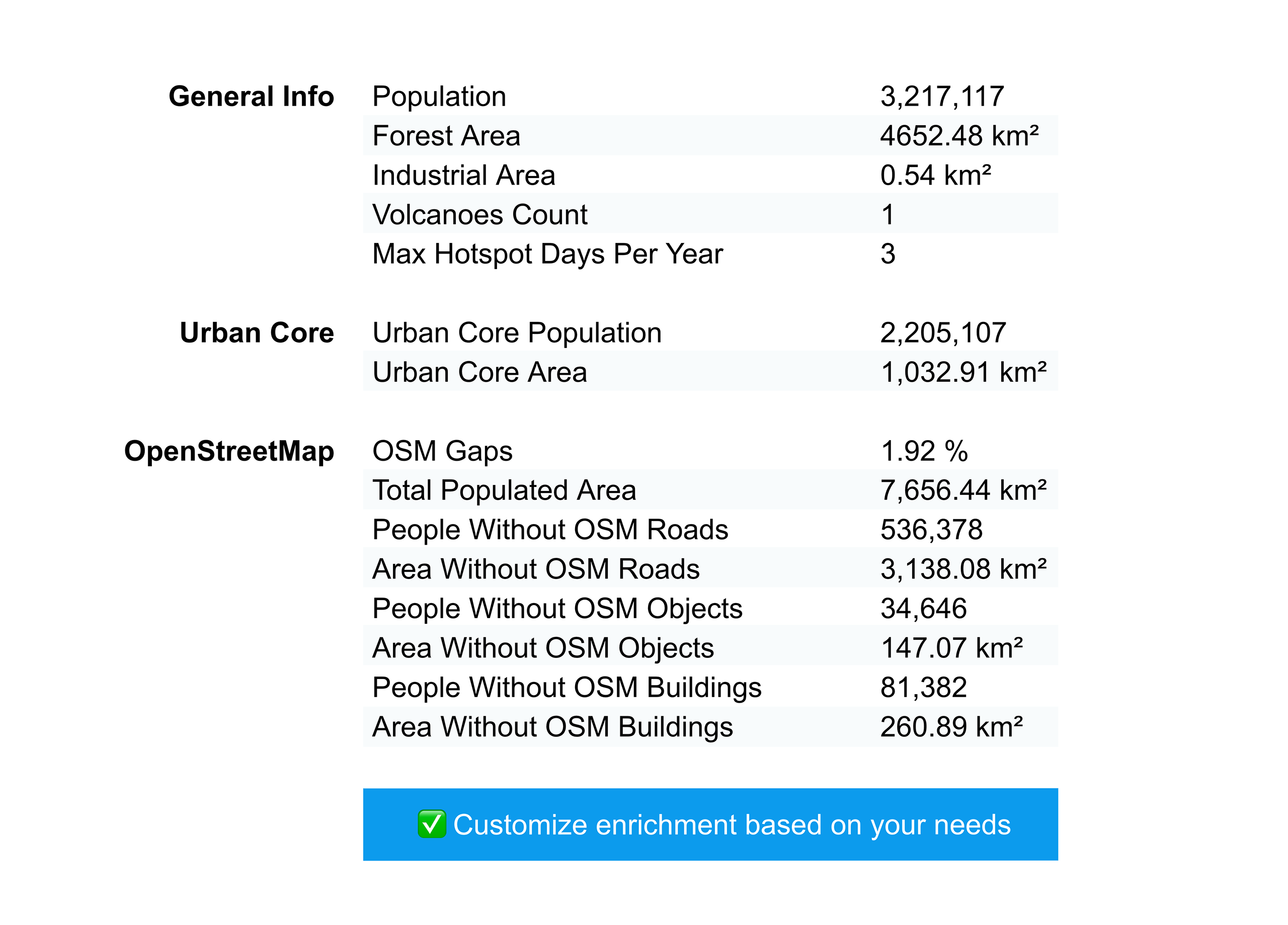 Supported Types of Natural Disasters
Kontur Event Feed supports a wide range of natural disasters: Cyclone, Drought, Earthquake, Flood, Storm, Tornado, Tsunami, Volcano, Wildfire, Winter Storm and others. We are committed to adding additional types in the future.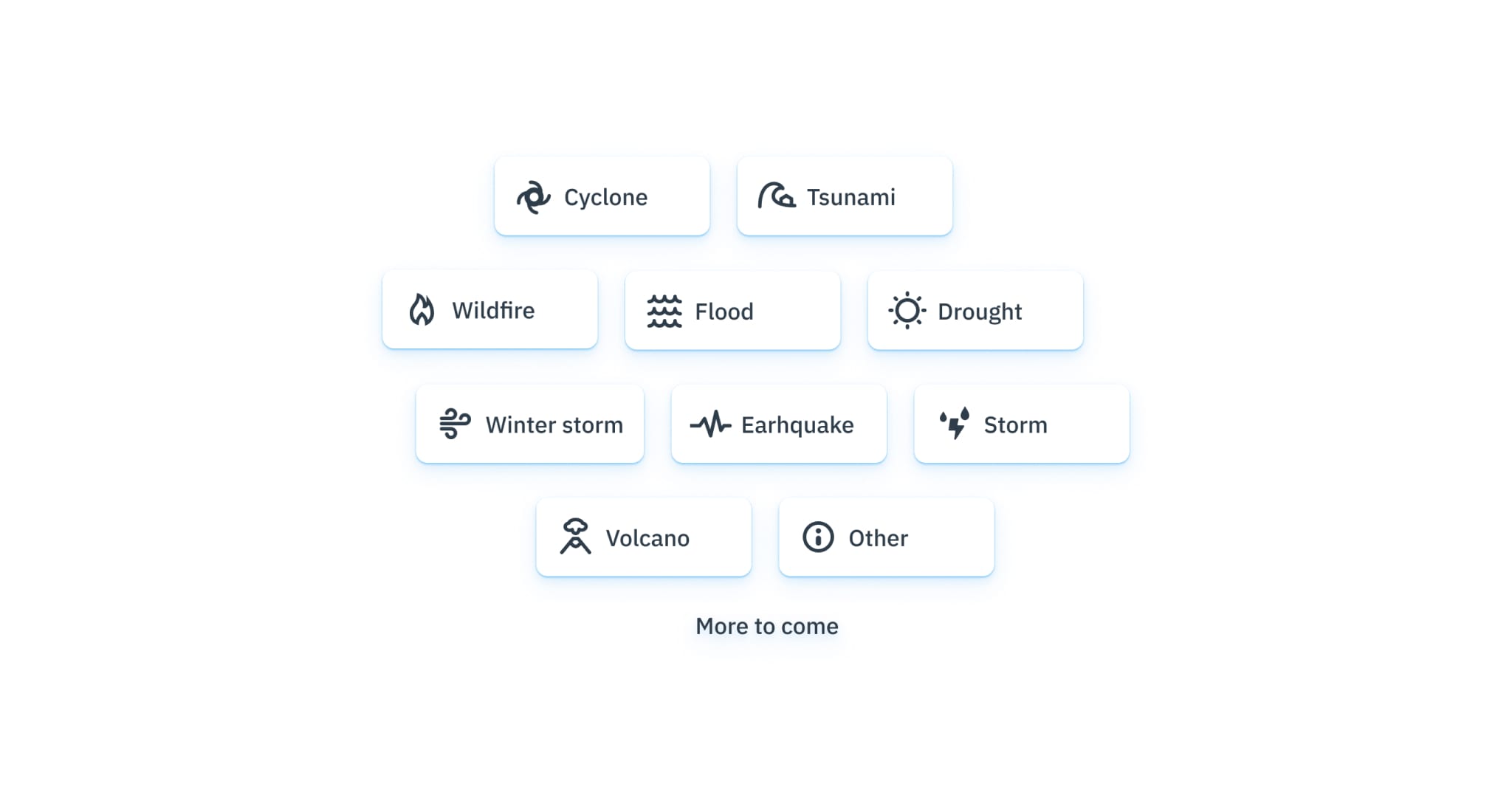 Direct Access to Global Disaster Data with User-Friendly API
Kontur Event Feed offers direct and user-friendly access to a wealth of global disaster event information through its powerful API. By sending HTTPS requests to specific endpoints, you can interact with our platform and retrieve real-time and historical disaster data.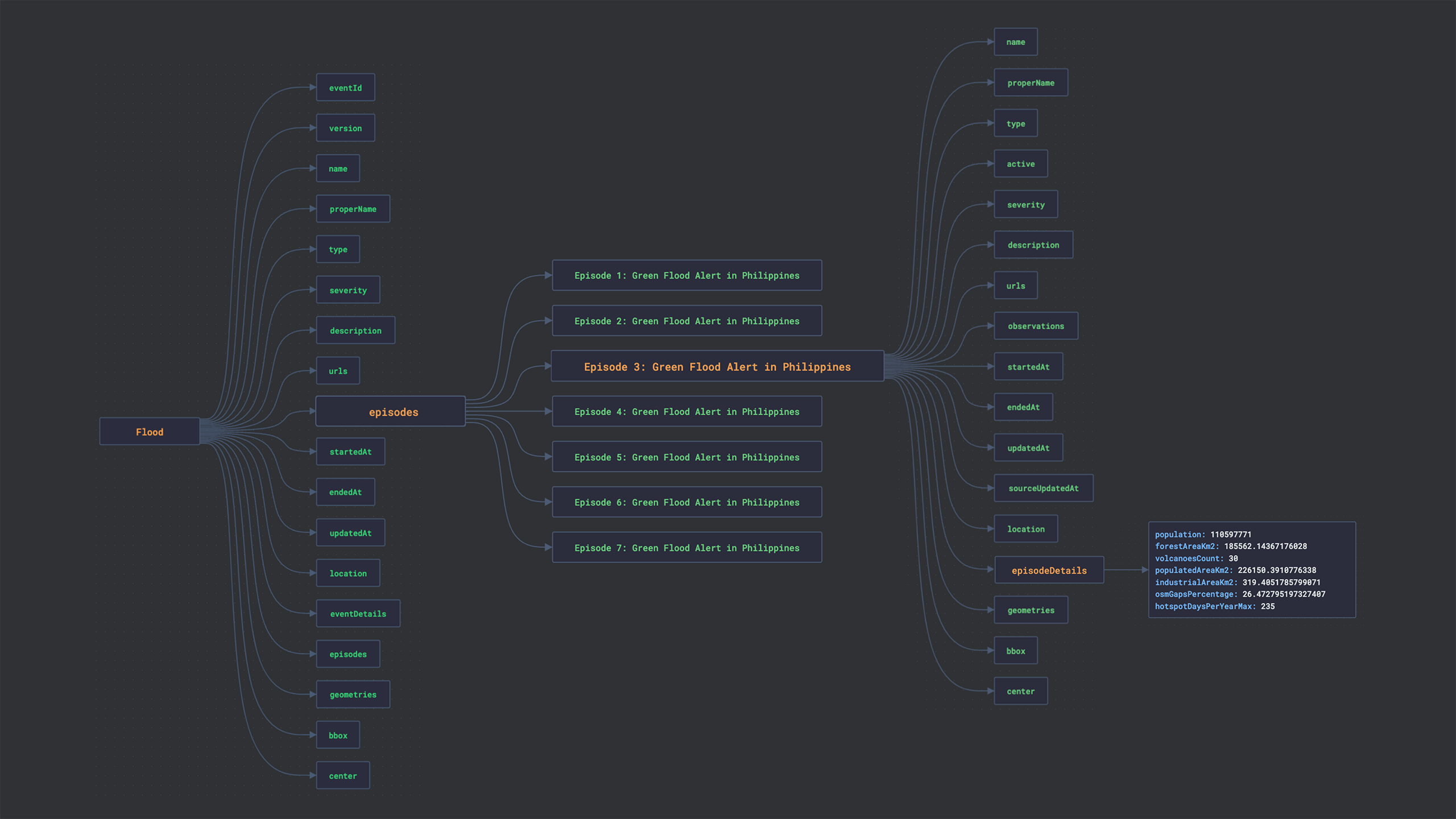 Benefits of Kontur Event Feed
Easy API Integration: Seamlessly integrate disaster information into websites and applications using the API.
Global Real-time and Historical Data: Access comprehensive data on natural disasters worldwide, enabling a deeper understanding of disaster patterns and trends.
Consolidated Data from Multiple Sources: Benefit from cohesive and standardized disaster information gathered from various reliable sources.
Support for Various Disaster Types: Obtain critical insights into a wide range of natural hazards, covering cyclones, wildfires, and more.
Enhanced Risk Assessment: Enriched data with valuable analytics facilitates more effective disaster risk assessment.
Customizable Insights: Tailor the information to suit your specific needs, empowering you with personalized insights for better decision-making.
Free and Commercial Access
Start by using the public version of Event Feed, which is available for free and can be used for any purpose, including commercial use.
For more extensive disaster insights, our commercial option grants access to a private feed sourced from a wider variety of sources. With this choice, users can unlock advanced analytics and gain access to disaster loss estimation data.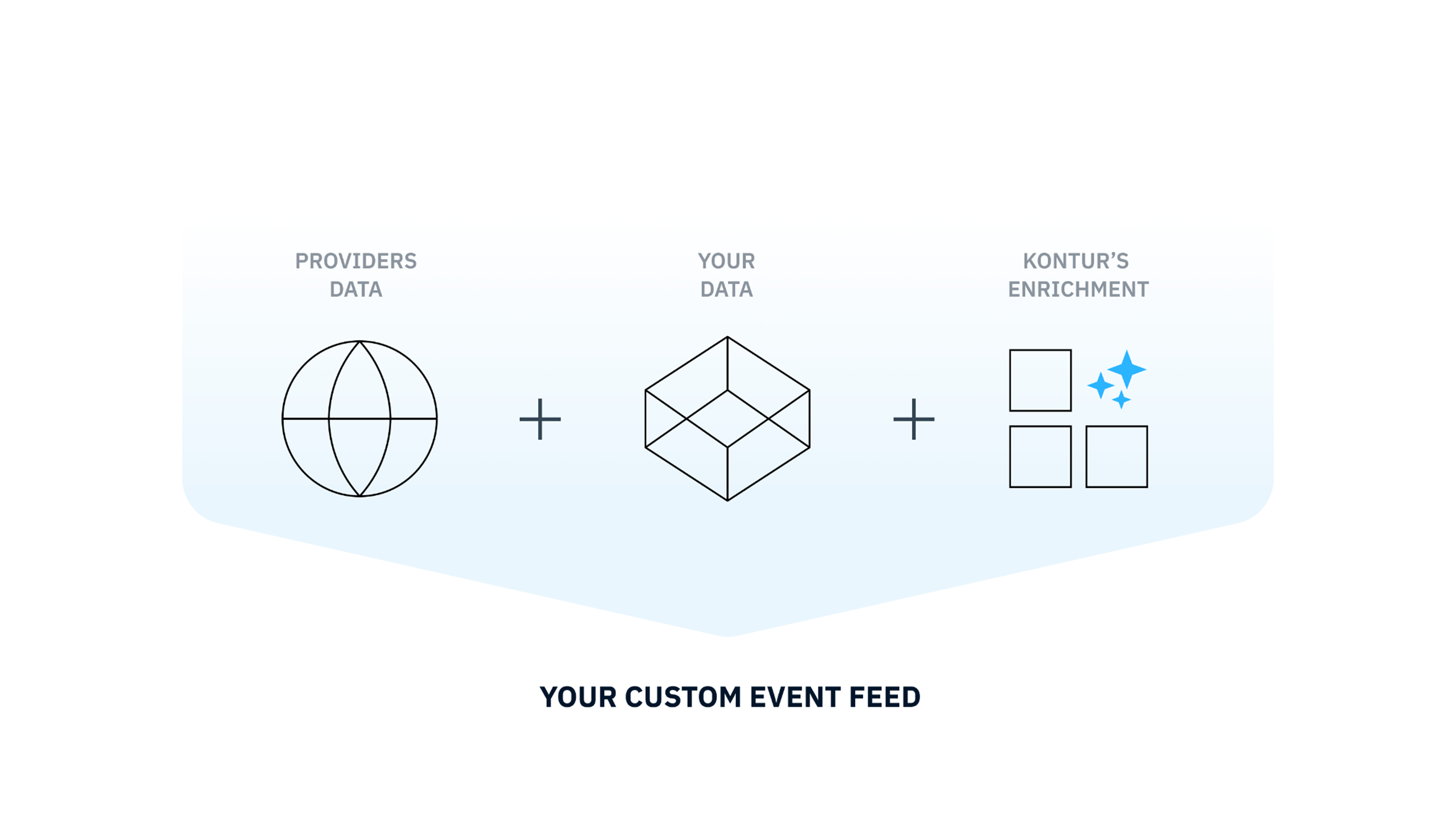 We understand that each user's requirements may be unique. We offer the flexibility to create a personalized disaster data feed that aligns precisely with your specific needs. Contact us to discuss your use case and explore the possibilities.