Mediterranean Storm Daniel passed through eastern Libya over the weekend of Sept. 8, bringing heavy rainfall and flooding that resulted in large-scale destruction.
Daniel dropped eight months of rain on Libya's northeast region.
On Sept. 11, two dams collapsed, sending 1 billion cubic feet (30 million cubic meters) of water into already inundated areas. The eastern city of Derna, home to less than 10,000 people, was hit worst, with 25% of the city disappearing, according to the Minister of Civil Aviation. Images on social media reveal the scale of destruction in the city.
Additional analytic data based on Kontur datasets:
| | |
| --- | --- |
| Exposed GDP | 152,178,739 USD |
| Number of exposed buildings | 14,933 bld. |
| Percentage of populated area | 41 % |
Key factors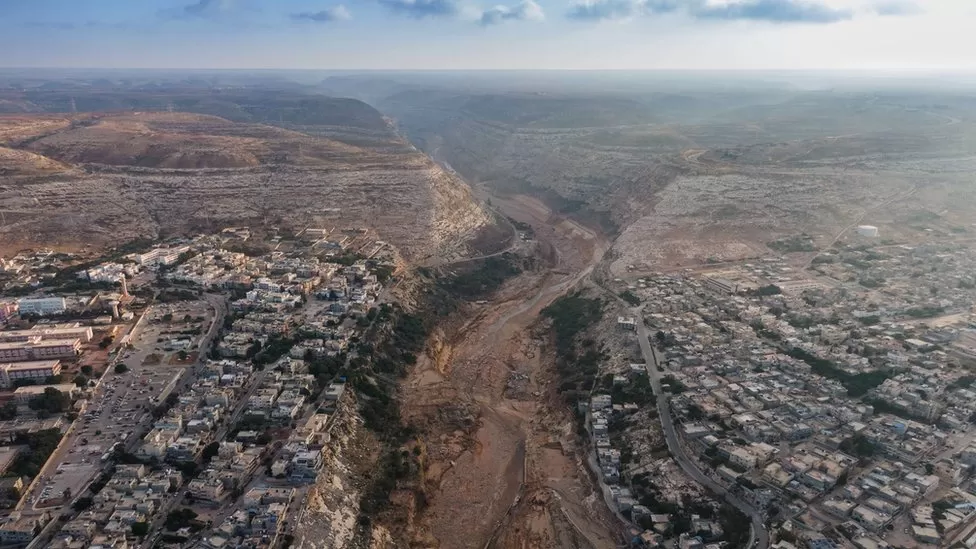 Across affected areas, there are reports of damage to homes, roads, bridges and hospitals. Access to some areas is limited due to road damage. While a full count is not complete, at least 2,217 buildings have been exposed to flooding. UNDP says the disaster damaged or destroyed around 10,000 buildings across all affected areas. The disaster resulted in damage to health facilities, with approximately 85% not fully functional, 117 schools, and social infrastructure and historic sites like the old market of Derna.
The dam reservoirs in Derna have caused at least five floods since 1942, most recently in 2011. They were built in the 1970s. Derna's deputy mayor told Al Jazeera, "The dams have not been maintained since 2002, and they are not big."
The Derna Dam is about 246 feet high with a capacity of almost 5 billion gallons, while the Mansour Dam is smaller at 148 feet and just under 400 million gallons. But the problems with the dams were known
Humanitarian programs