As part of our commitment to empowering communities and supporting open mapping initiatives, we collaborated with HOT (Humanitarian OpenStreetMap Team), the owner of OpenAerialMap, to enhance the platform's functionality and user experience.
OpenAerialMap is a powerful tool that collects openly licensed images of Earth, making them accessible to the public. It empowers users to upload aerial imagery, explore the extensive collection of available images, and utilize them for various purposes such as downloading, sharing, and integration with mapping editors like JOSM/ID.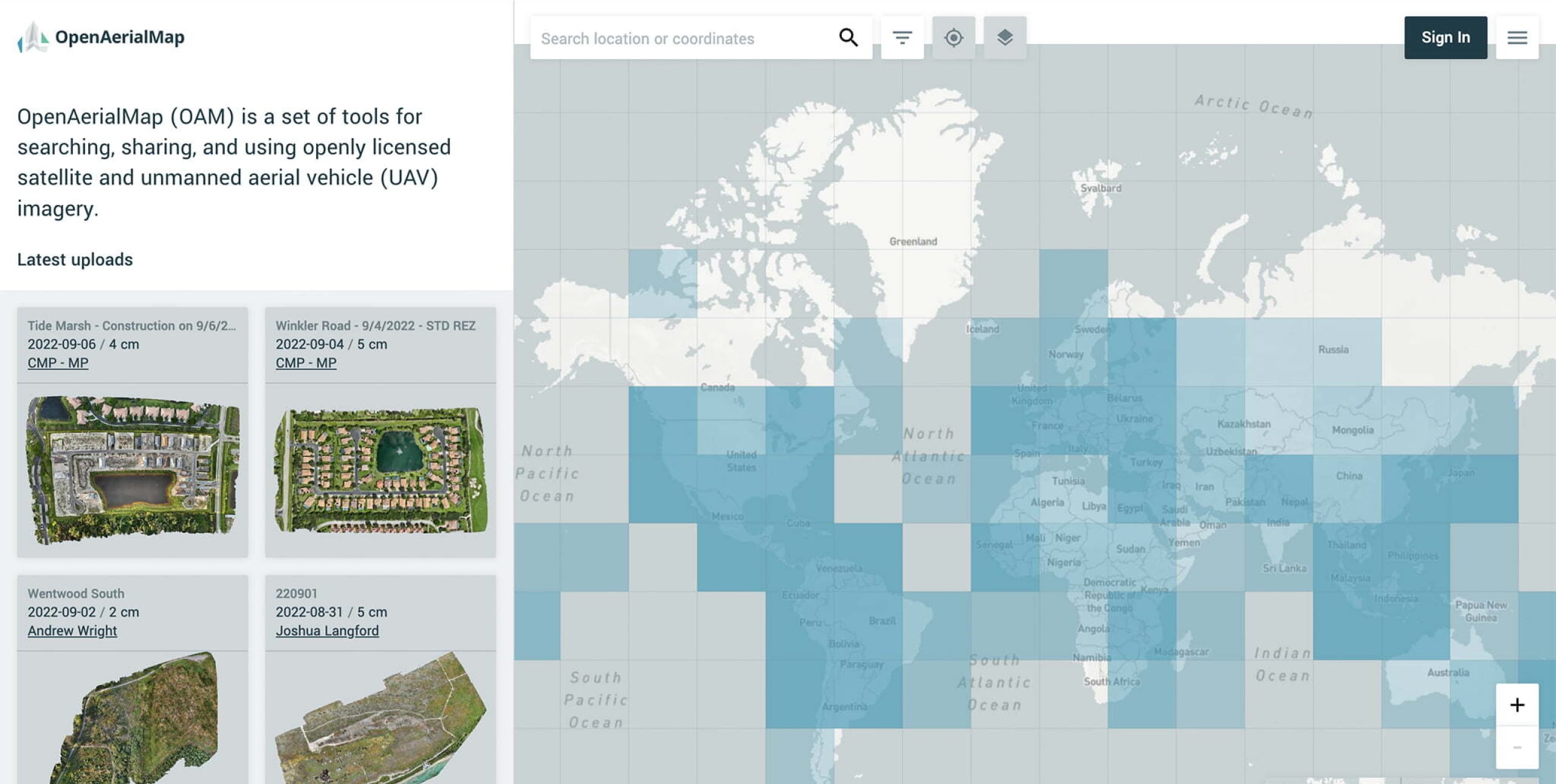 Through our GIS software development expertise, we rendered a range of valuable solutions, including a redesigned OpenAerialMap interface, a mosaic layer for orthophoto maps, and improved uploading processes.
Custom OpenAerialMap Development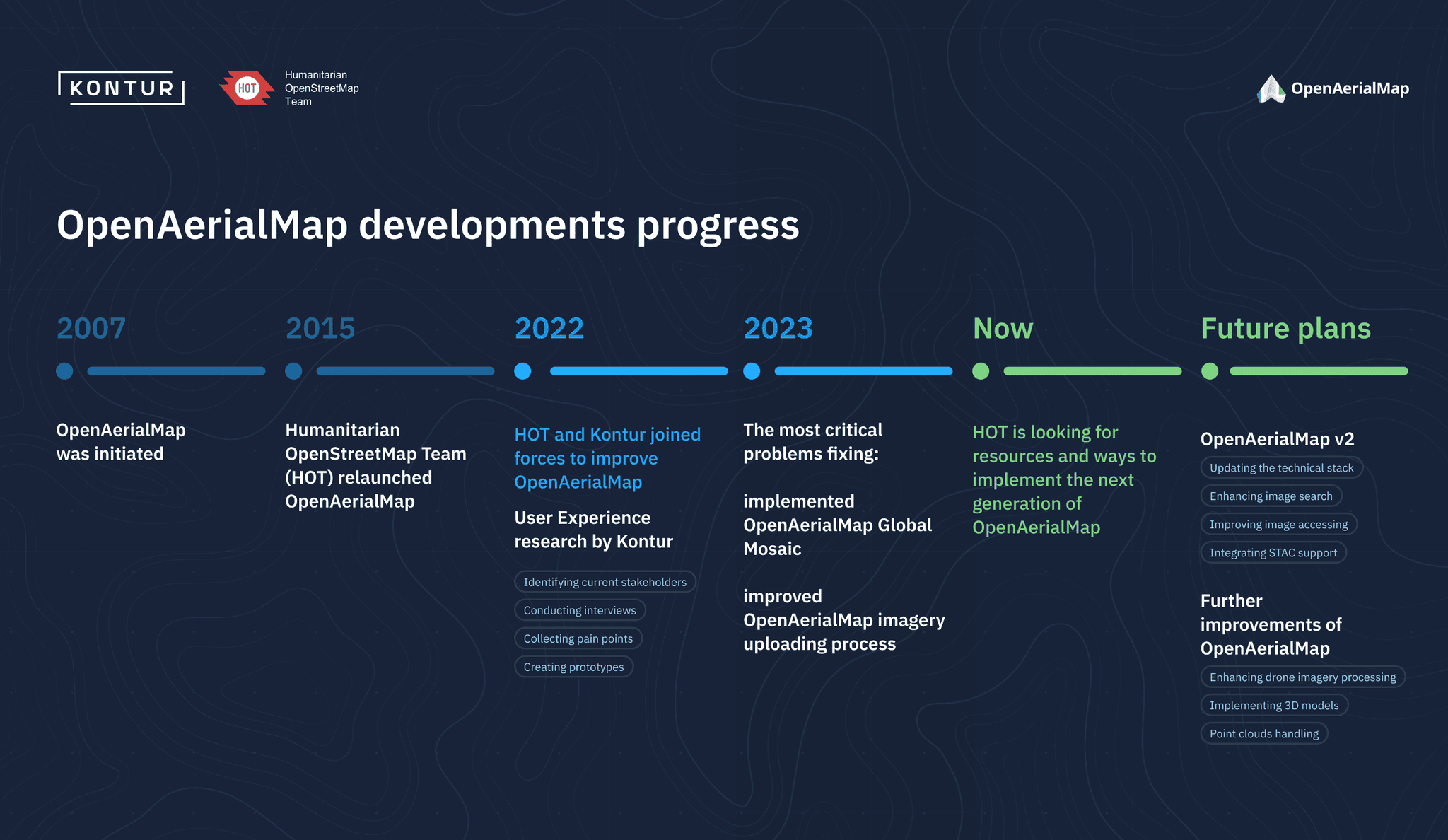 HOT contacted Kontur and asked for assistance in improving the OAM platform. They wanted a fresh perspective, so Kontur conducted an audit and identified the main issues facing OAM users.
Next, a prototype of the new solution was created and tested with OAM users. This helped us understand what improvements were needed. We prioritized fixing the most critical problems to make the platform easier to use.
Currently, Kontur and HOT are actively seeking the necessary resources and exploring different approaches to implementing the next generation of OpenAerialMap.
A User-Centric Redesign (year 2022)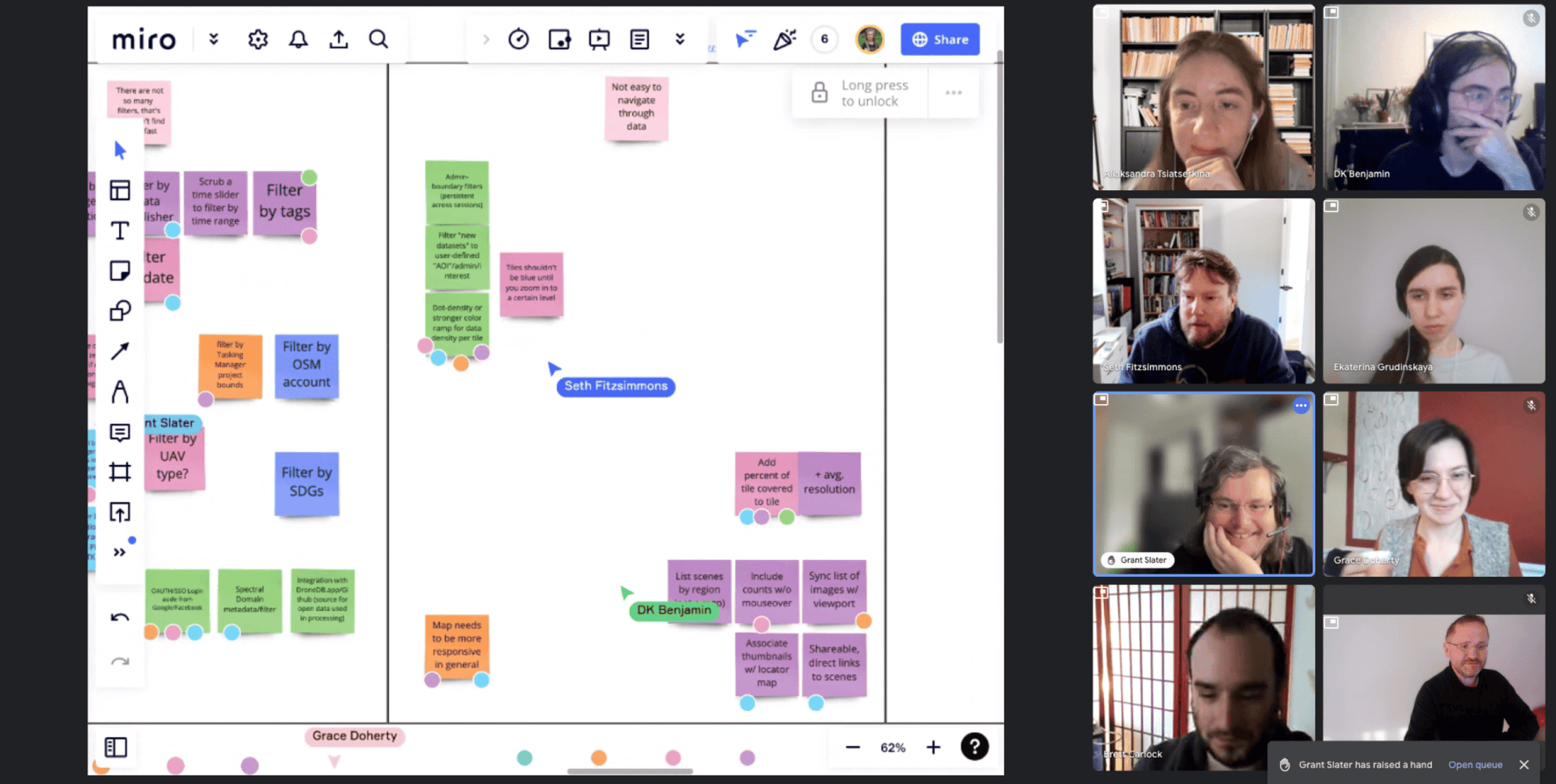 Recognizing the significance of user-centric design and agile methodologies, Kontur embarked on a collaborative journey with HOT to guide the redesign of OpenAerialMap. We used a comprehensive product mindset to enhance the platform's usability, functionality, and accessibility. We built the process following the design thinking methodology:
Discovery: stakeholders mapping, interviews, experience mapping, user personas, pain points, and problem statements
Designing: workshops, ideas list, storyboards, interactive prototypes
Testing: user testing, results and insights, recommendations
Guidance: architecture improvements, acceptance criteria, product vision, and scope
To lay the foundation for the redesign, we conducted in-depth research with the involvement of participants representing 13 organizations and community groups worldwide. By empathizing with the users, we identified their pain points and needs.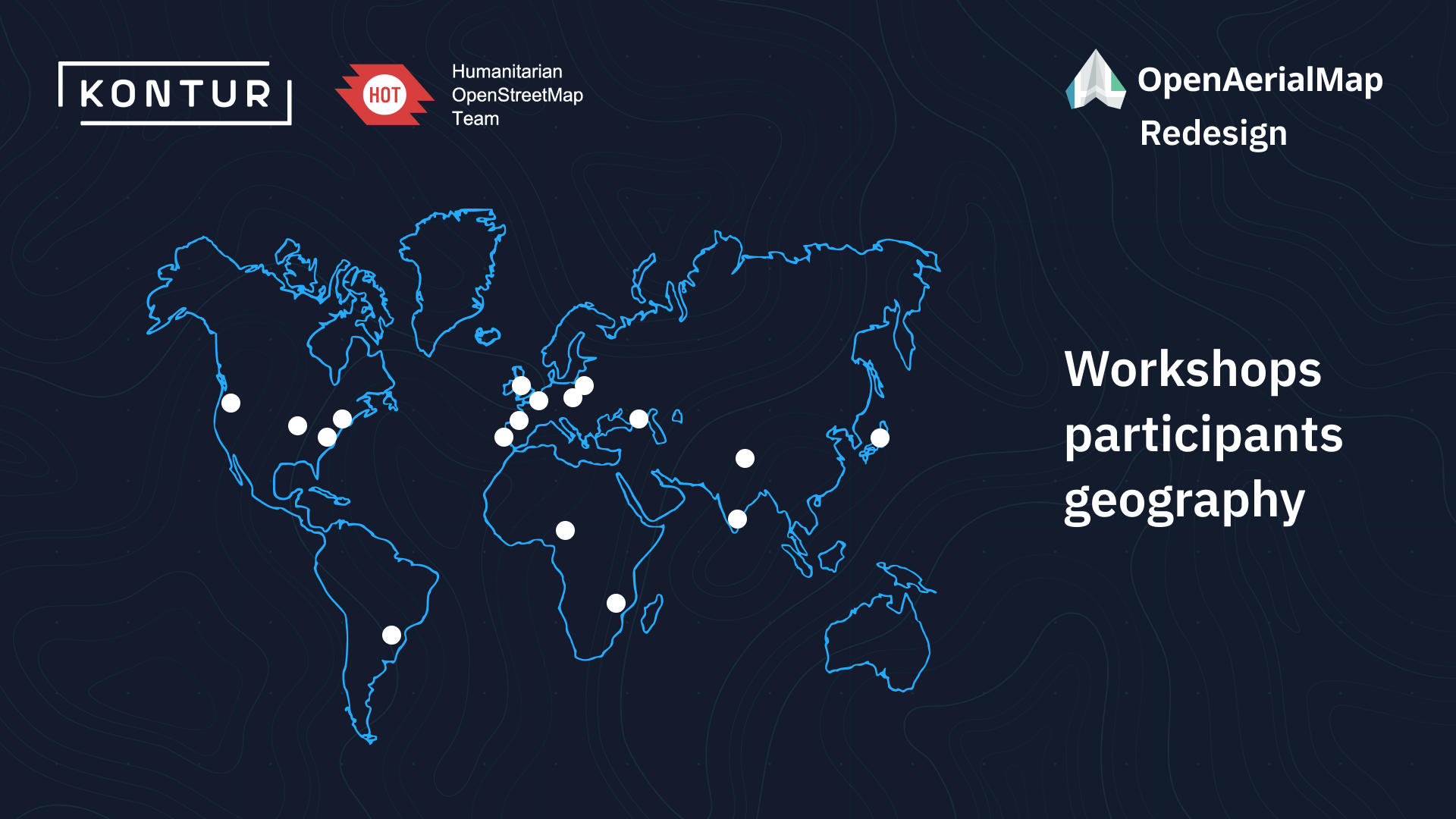 Through workshops and collaboration, we created user personas, such as mapping project managers, imagery contributors, and GIS analysts, to accurately represent the target audience. This enabled us to understand the challenges they faced and design solutions tailored to their requirements.
Prototyping played a key role in the design process, allowing us to validate our assumptions and gather valuable feedback. We conducted multiple testing sessions with representatives from different stakeholder groups, using functional Figma prototypes.
Design stage outcomes
The main result we obtained is a prioritized list of the key pain points experienced by our users and potential improvements. The most significant issues were related to
Process of uploading imagery
Map usability
Issues in key user flows
Therefore, our initial focus was on fixing those aspects.
GIS Software Development stage (year 2023)
Based on the prioritized pain points, and budget available for HOT for this year, we selected the following areas for improvement:
Mosaic Layer: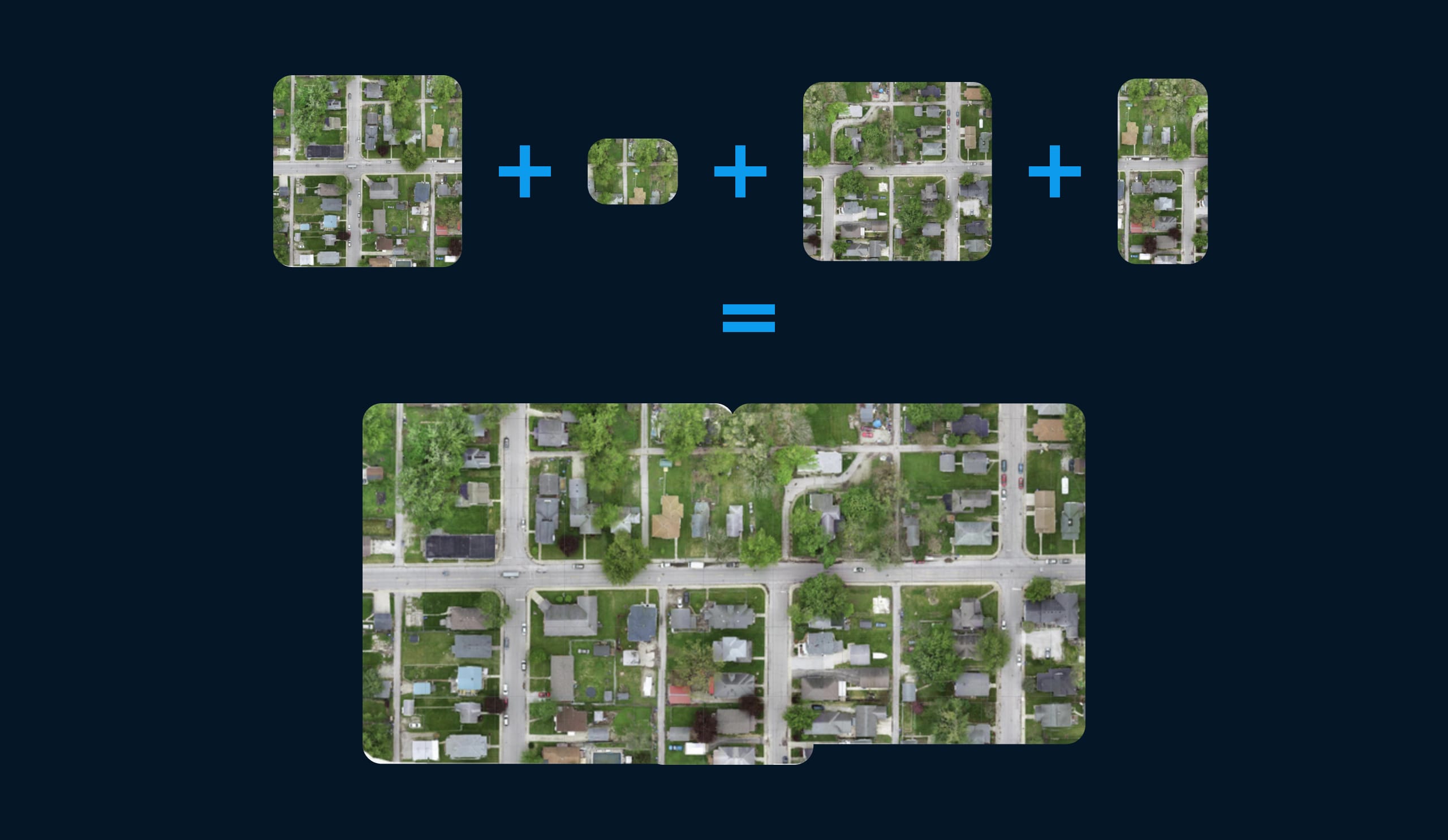 Kontur developed a custom mosaic layer for OpenAerialMap, known as the OpenAerialMap Global Mosaic. This solution combines individual drone and satellite orthophoto images into a seamless mosaic, simplifying navigation and utilization.
By leveraging the power of orthophotos, aerial photographs corrected for distortions caused by terrain relief and camera perspective, users can perform accurate measurements, detailed analysis, and overlay other geospatial data.
Kontur's Orthophoto Map enriches OpenAerialMap's offerings, providing users with a reliable and precise representation of Earth's surface.
Streamlined Uploading Process:
Recognizing the importance of a smooth uploading process, we identified and addressed issues related to uploading and form-filling on OpenAerialMap.
Our team meticulously analyzed the existing workflow, focusing on connection improvements, login, and account settings optimization, and enhanced uploading and form-filling experiences.
By streamlining these processes, we enabled imagery contributors to easily share their data globally.
This improvement significantly increased the availability of open-licensed imagery on OpenAerialMap, empowering users with a rich repository of valuable aerial imagery.
Next version of OpenAerialMap
HOT, with the help of Kontur, is actively seeking resources and exploring various possibilities to implement the next generation of OpenAerialMap. The development of OpenAerialMap's next version includes several important enhancements such as:
Updating the technical stack to ensure a modern and efficient platform.
Enhancing the image search capabilities to make it easier for users to find the desired imagery.
Improving the accessibility of images, allowing users to access them more efficiently and effectively.
Integrating STAC (SpatioTemporal Asset Catalog) support, which enables better organization and discovery of geospatial data.
Implementing various other improvements to enhance the overall functionality and user experience.
By incorporating these advancements, OpenAerialMap v2 aims to provide an even better and more robust platform for users.
Conclusion
Kontur's collaboration with HOT in enhancing OpenAerialMap showcases our dedication to delivering high-quality GIS software development solutions. Through a user-centric redesign, the development of the Orthophoto Map mosaic layer, and the optimization of the uploading process, we have enriched OpenAerialMap's capabilities and improved its usability.
Our commitment to leveraging geospatial technology to drive positive change is at the core of our approach. If you require tailored GIS software development services or wish to explore the potential of geospatial insights, we invite you to reach out for a custom development consultation. Together, we can unlock the full potential of mapping technology and make informed decisions that transform our world.